Welcome to Hoof and Paw Veterinary Clinic
Your Veterinarians in Menomonie, WI
Call us at 715-235-2626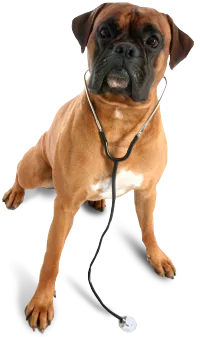 Hoof and Paw Veterinary Clinic is a mixed animal practice. We offer health care to bovine, equine, canine, feline and alpacas. We offer referral for exotics.

The primary purpose of the Hoof and Paw Veterinary Clinic is to provide a Gold Standard of health care for your pet by treating your pet as we would our own. The doctors and the staff all share a common goal to promote wellness, relieve suffering and restore health as swiftly, safely and humanely as possible.

We are proud to offer our patients the best animal care we can. Whether it's for a routine exam, a serious health issue, surgery, or herd health. When you call on us, you can count on getting the best service possible.

In 2005 an extensive renovation provided us with new exam rooms and expanded space for our growing practice. We have expanded our practice to include 6 veterinarians, a practice manager, 7 receptionists, 5 certified veterinary technicians and 5 veterinary assistants.
We have a number of resources for you to learn about how to take better care of your pets. Browse around and look at our articles and pet videos. The best veterinary care for animals is ongoing nutrition and problem prevention. If you want to ask a question call 715-235-2626. Our Menomonie veterinary office is very easy to get to, and you can find directions on our Contact Us page. You can also subscribe to our newsletter which is created especially for Menomonie pet owners. In between your veterinary visits, your pet will benefit from you reading these free informative articles.
At Hoof and Paw Veterinary Clinic, we treat your pets like the valued family members they are.
Dr. Amy Prochnow | Dr. Jason Westcott | Dr. Nick Place
Dr. Richelle Ackerman | Dr. Brady Myer | Dr. David Pillman
Hoof and Paw Veterinary Clinic | 715-235-2626
416 Oak Avenue
Menomonie, WI 54751
---